Is CBD An Appropriate Gift?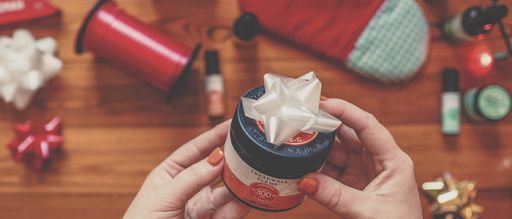 The holidays are right around the corner and if you're struggling to come up with ideas, we have a few thoughts. This year, give gifts that are meaningful, versatile, purposeful, and mindful. We call them "presents that pamper." Give the gift of CBD.
Let's face it, after dealing with the pandemic and all that comes with it, we're stressed out! And if we're stressed, then our friends and family probably are, too. More and more, we're turning to gifts that have meaning; gifts that encourage health and well-being. 
RedBubble Life says "Look for the heroes in your community and give gifts for no reason other than to say thank you or let the people you care about know you are thinking of them with a "just because" gift. These gifts don't need to be big, nor do they need to be signed. Thank-you gifts and "just because" gifts always bring a smile."
What we're really talking about here are gifts that help your family, friends, coworkers and anyone else on your holiday gift list LIVE WELL:  
CBD products are the perfect gift because they may help to soothe, relax, moisturize, de-stress and comfort people of all types and personalities. 
And while you're in a giving mood, maybe think about giving a gift to the one person who always has your back, who is there through thick and thin, someone who might not get the attention and care they deserve: YOU. A little self-indulgence never hurt anyone.
CBD products are also super versatile – gift your girlfriend a bottle of CBD extract with a recipe card attached. Adding CBD to recipes is unique and may offer healthful benefits, too. Here are some of our faves:
A CBD-infused gift is personal but practical – it's pampering with a purpose!
CBD products offer lots of options: lotions, oils, extracts, gummies, you name it – they smell good, they do good, they ARE good, and they gift good.
Wondering about the legalities? CBD is legal and it doesn't get anyone high because it has less than 0.3% THC. We get into all those details and specifics here.
And while CBD gifts can be given anytime to anyone for any reason, CBD is especially helpful during the holidays as a gift for not just friends and family, but anyone who may need a little pampering. 
This season's "note to self?" Self-care is for everyone! (And so is CBD!)