Treadwell Farms Offers High-Quality Hemp Products Even Closer To Nature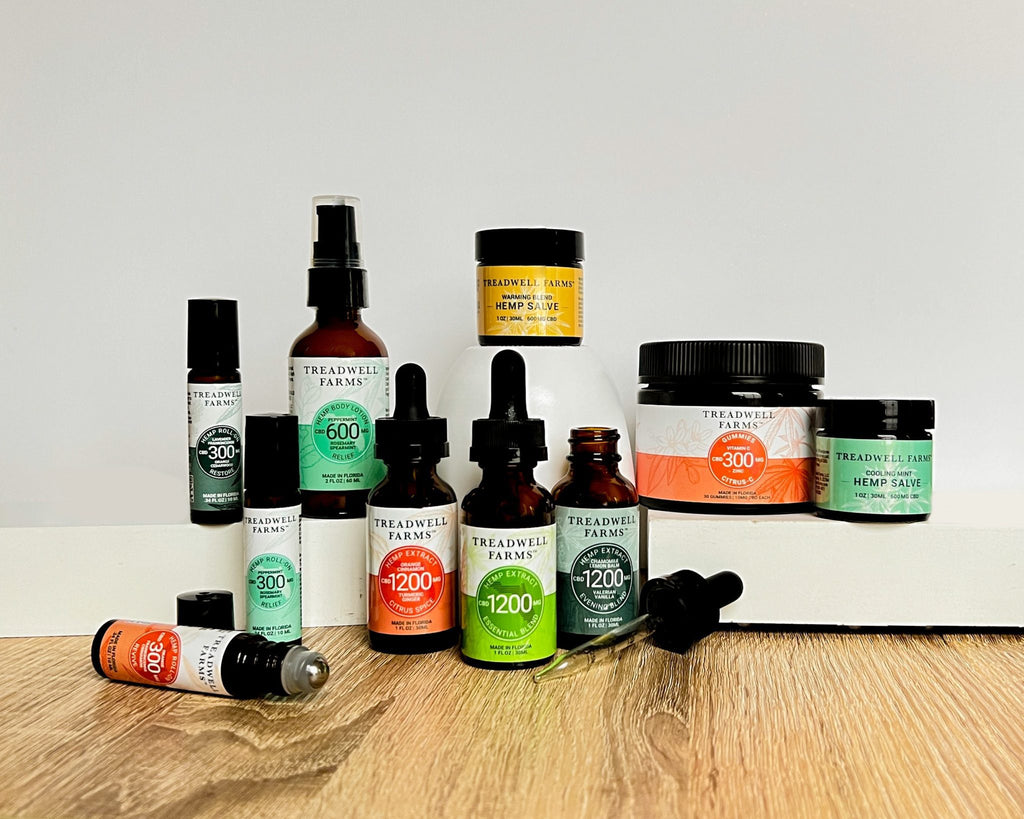 Treadwell Farms, a Florida family hemp company, is always seeking ways to include helpful, supportive elements of the hemp plant into its products. The company, featured in 2021 by Style Magazine, has done just that by elevating its CBD Hemp Body Lotion with hydrosol and has launched its first CBDA Hemp Extract, which is also THC-free.
"We always talk about utilizing the whole hemp plant and this is one of the ways we're accomplishing that," stated Jammie Treadwell, co-owner of Treadwell Farms. "We've extracted these natural compounds in the most intelligent way to amplify the therapeutic potential for our consumers. Since we are a farmer who creates our own artisanal products from seed to bottle, we have the ability to accomplish this. It allows us to provide even higher quality products for everyone to experience in their CBD – or hemp – journey."
What is Hydrosol?
Hydrosol, also called "floral water," is a co-product of steam distillation of hemp flower. It retains its aroma through water-soluble compounds from the fresh plant material.
Treadwell continued, "Initially, our hemp body lotion included distilled water – like most lotions. Now, we've replaced it with hydrosol we've distilled directly from the hemp plant to enhance our lotion. This brings it even closer to the whole hemp plant."
Hydrosol has been added to Treadwell Farms more newly released 600mg RELIEF CBD Hydro Lotion for its anti-inflammatory and cooling effects. The topical application allows it to work on the body directly where it is applied to moisturize, soothe and protect the skin.
600mg RELIEF CBD Hemp Body Lotion ($32)
This 600mg full-spectrum CBD hemp lotion is rich in naturally occurring Phytocannabinoids, flavonoids and terpenes. The high potency lotion supports the endocannabinoid system – enhancing balance within one's body – hydrating and nourishing skin.  It also features the botanical herbs of Rosemary, which soothes sore muscles and joints and helps reduce nervous tension and fatigue; Peppermint, known for its over-arching stimulating properties in addition to swelling reduction; Spearmint, known for being a mood lifter, promotes focus and digestion, and supports emotional balance; Aloe Leaf Juice, which is an emollient and moisturizer ideal for soothing irritated or solar exposed skin; and Shea Butter, which contains vitamins and fatty acids that nourish dry skin.
What is CBDA?
CBDA is a cannabinoid like CBD or THC and one of many found in the hemp plant. CBDA appears in the plant as the raw, precursor to CBD. It's one of the freshest cannabinoid extract from the hemp plant. As a living cannabis plant matures, cannabinoids initially appear in their acidic forms. While there are hundreds of cannabinoids in the cannabis plant grown for CBD, CBDA is abundant in the living plant.
In fact, there is very little CBD found in the living plant until it is flowering or fully matured. When the plant is exposed to heat, the CBDA becomes CBD, which can happen naturally once it is harvested or purposely during processing.
CBDA is easily metabolized by the body. Recent studies have shown it may provide relief from inflammation and pain, nausea, seizures, and stress-induced anxiety. Like CBD, CBDA is non-intoxicating.
"It is our intent to provide products as close as possible to the living hemp plant," continued Treadwell. "Through our own process of hand-harvesting, drying and curing the hemp plants, we're able to keep all of the fully natural cannabinoid components of the hemp plant intact. This will allow anyone utilizing our products to experience the true wellness benefits it has to offer – from seed to bottle."
1500mg Spearmint CBDA Hemp Extract ($85)
This natural blend is of organically grown Hemp Extract that contains CBD and CBDA, Sunflower Lecithin, MCT Oil (Coconut Oil), and Spearmint. It's more powerful due to the strengthened combination of CBD and CBDA but contains less THC. In addition to the mint flavor, Spearmint is also known to support digestion and emotional balance, and is a mood booster.
How is CBDA Different from CBD?
CBDA interacts with different receptors within the body than CBD, so together these extracts are the perfect complement to each other. While there is still a lot of research being conducted on CBDA, early findings are that it delivers therapeutic power to the body by interacting with enzymes and receptors. For example, CBDA is found to interact with COX-2, which is an enzyme associated with inflammation, and influence serotonin, which is a transmitter associated with happiness and overall well-being. So, CBD and CBDA are truly better together, just as they are found in the living plant.
Original post: https://www.lakeandsumterstyle.com/treadwell-farms-offers-high-quality-hemp-products-even-closer-to-nature/
JUNE 21, 2022 | BY JAMES COMBS