Meet Jammie Treadwell - CanvasRebel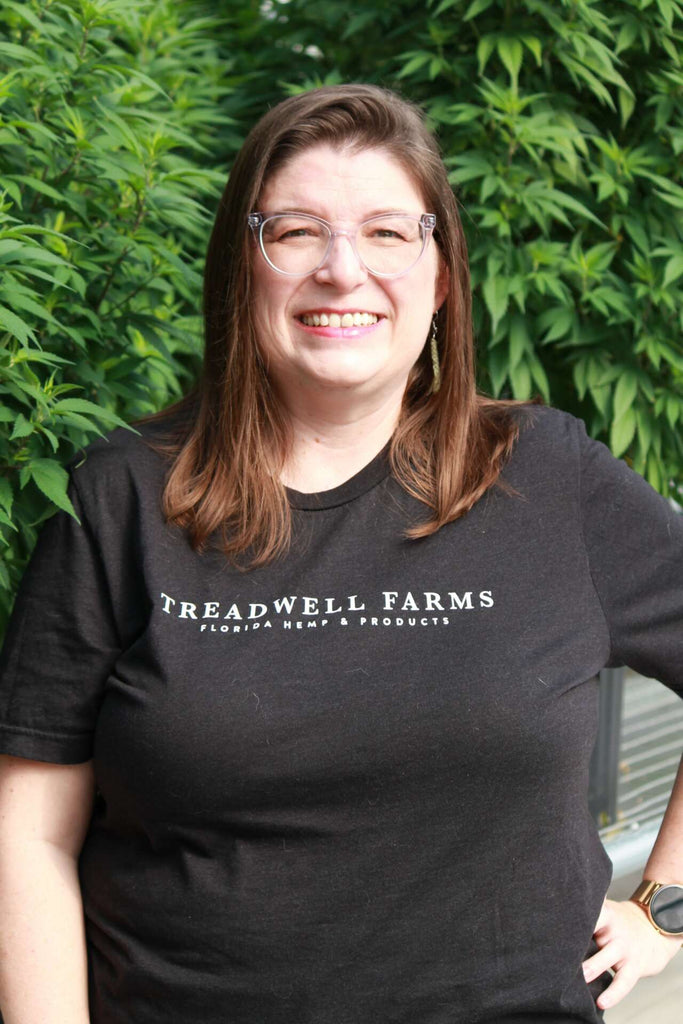 We are excited to share this CanvasRebel article that features Jammie Treadwell - one of our owners. Read more as they discuss risk taking, when to pivot, the family business that is Treadwell Farms, and more.
Alright – so today we've got the honor of introducing you to Jammie Treadwell. We think you'll enjoy our conversation, we've shared it below.
Jammie, thanks for taking the time to share your stories with us today Risk taking is something we're really interested in and we'd love to hear the story of a risk you've taken.
The biggest risk I've taken was leaving a corporate job and going into the medical marijuana business with my parents in Florida. While my family has been farming in Florida for more than one century, it was a risk to start a business centered around a new and complicated industry. It's a complicated business because of the regulatory oversight and complicated processes; however, we did it so well we sold the business to an industry giant. But all of that set us up for the second risk we took, launching a hemp CBD company at the start of a global pandemic. It just happened to be when the State of Florida issued the first of its hemp cultivation licenses, but we were committed. We hired an integrated communications team and haven't looked back. We've been able to grow our business each year, which is amazing; helped other farmers grow and harvest; and expanded on our product offerings. This has all occurred within nearly three years since the launch. Each of these risks were worth taking because we knew that we could make products that help people and be a part of creating a new industry for Florida.
Jammie, love having you share your insights with us. Before we ask you more questions, maybe you can take a moment to introduce yourself to our readers who might have missed our earlier conversations?
For my whole life my parents and all of my large family was involved in Florida agriculture with most in the indoor foliage business which my area of Florida is known for. My sisters and I grew up working in the nursery and we have all worked together to establish our business and brand – I just happen to be co-owner and have the opportunity to work full time on making our vision for Treadwell Farms a reality. I earned my degree in Communication and English from Florida State University in Tallahassee and then worked as a senior healthcare executive for Accenture LLC, a Fortune Global 500 company that provides multinational services in strategy, consulting, digital, technology and operations, and where I was for nearly 20 years. The majority of my career was focused on healthcare. Although I loved my job and accomplished a lot, the stress and constant travel became difficult to manage due to some health concerns. When my family started considering a new business venture it was the right time to make a change for my health, so I left to go into the cannabis business with my parents.

During this process I did move to Oregon for a few years to learn the ropes of hemp and to gain the necessary insight and knowledge of how to best grow the plant in Florida's climate. There, I also learned how best to control the supply chain, handling everything from planting and extraction to product development and distribution.

I felt I had to completely immerse myself to determine how a family with a farming background from Florida could successfully transition into medical cannabis and then later, the CBD hemp space. When I returned to Florida, we received a medical cannabis license in 2017 through Remeny Wellness, where I was COO, and sold the business one year later.

Having both experiences under my belt, I felt I was properly equipped to lead my family through the development of bringing this new crop to Florida – even more specifically, Central Florida. I created business plans for cannabis cultivation, processing and dispensing; developed a network of contacts for use in the business; and combined knowledge of nursery operations and health-related business to develop organizational processes for Florida's new medical cannabis program.

Today, my parents and I own and operate Treadwell Farms in Umatilla, Florida. We're now a Florida family hemp company that creates and curates natural, healthful and helpful small-batch, artisanal hemp products that are trusted and tested with the community in mind. We also provide guidance, support, education, opportunity, friendship and hope to local farmers growing Florida hemp. We really strive to make the highest quality products and control the process from seed to shelf – something most other CBD products do not do. We also want to see family farms in our area be successful in adding hemp into their farming endeavors.

I am proud to be from a Florida farming family and am excited to extend our legacy into a new crop and industry.
How about pivoting – can you share the story of a time you've had to pivot?
As I mentioned earlier, I had a long and rewarding career at Accenture. I honestly thought I would spend my career there because my clients and team members were great to work with and it is an excellent company. However, I developed an autoimmune disorder and found that the lifestyle that went along with strategic technology consulting was not conducive for the balance that I needed to be healthy. As I worked through a medical leave and was trying to figure out how I could continue down the road warrior consultant path, I personally experienced how many natural remedies, lifestyle/diet changes and more holistic approaches worked better for me than traditional medicine alone. My personal experience really helped me understand how someone could need different, non-pharmaceutical options to help them live the life that they wanted. As I was pondering how to keep myself healthy and happy in my current career, I realized that I needed to make a change. Around that same time, we started discussing medical cannabis and I made a difficult decision to leave a career I loved to use our long time Florida agriculture experience to create products that could (and do) help. I don't think I would have been as open to take the risk and pivot if I hadn't experienced complex health issues that still required ongoing management. That decision to pivot has allowed me to work with my family, grow and create products that I take to manage my health and hopefully help many others that need tools to help them live well. The change was scary, but I am so glad that I was able to bring my family history and professional background together to start a new industry in Florida that can help so many.
What's been the most effective strategy for growing your clientele?
It's actually been a combination of things – our integrated marketing efforts (traditional and non-traditional) coupled with a reputation for producing high quality, affordable products and being available to answer questions from the consumer. It also helps that we have been in our community for a long time, so we seek out the most trusted health food stores, pharmacies – amongst others – to carry our products. We want to be a trusted product in a crowded, largely unregulated space and we challenge ourselves to work with other trusted businesses who closely evaluate every product on their shelves. Starting a business during Covid means we had to adjust when and where we found our customers, but our reputation is growing, product quality is excellent, and we are one of the few Fresh from Florida Made with Florida Hemp brands out there for consumers that like to shop local.