BREAKING BUD by Lake & Sumter Style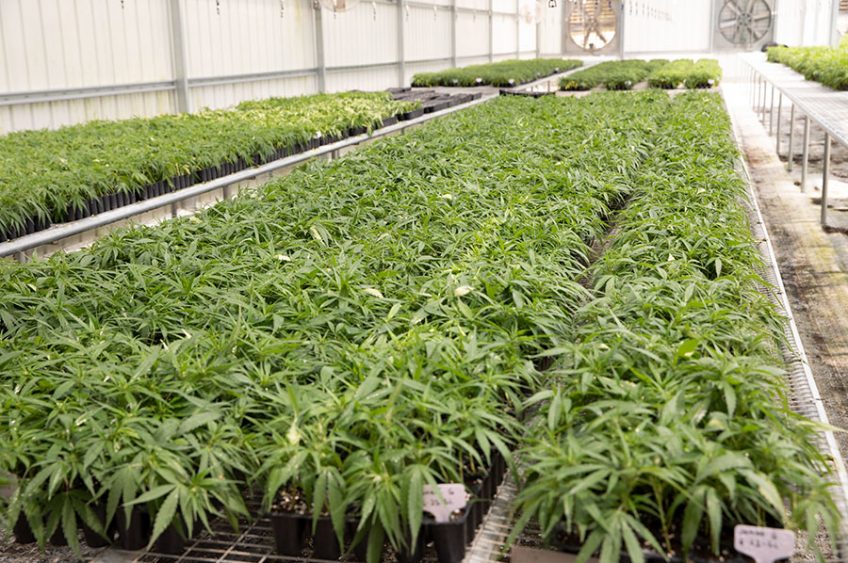 Written By: James Combs
Photos: Nicole Hamel
As Jammie Treadwell enters a 25,000 square-foot greenhouse in rural Eustis, her eyes light up as she walks past rows of healthy green plants with cane-like stalks and greenish-yellow flowers. 
In recent years, Jammie and her father, Glen Treadwell, both longtime farmers, have turned over a new leaf. Now, they're cultivating hope.  
Through their company, Treadwell Farms, the father-daughter duo became involved in a budding industry—hemp farming. Their mission: create organic CBD products to improve the quality of lives of those suffering from ailments and teach the industry to other farmers interested in hemp production to help their family businesses remain sustainable. 
"We feel this plant is unique in its ability to offer so much potential and so much hopefulness," Jammie says. 
Just a few years ago, a hemp farm would have been illegal in Florida. That changed in June 2019 when Florida Governor Ron DeSantis signed a bill into law to create a state hemp program. With deep agricultural roots—the Treadwell family has been farming in Florida for more than 100 years—Glen and Jammie changed their company's focus from producing florist-quality flowers to hemp. 
"We already had farming skills, so we decided to use those skills to grow something that would help people and allow us to be part of an evolving industry," Jammie says. "Why wouldn't we do that? We're just applying our skills to a new crop."
That decision was not made on a whim. They spent countless hours conducting research about hemp and even traveled to Israel to learn more about the crop. In addition, the Treadwells familiarized themselves with the hemp-growing process when a family in Oregon asked for their assistance in setting up and operating a hemp farm.  
"We taught commercial farming to them," Jammie says. "We helped them tilt, lay rows, and taught them about electrical and water infrastructure. We learned just as much from them. It was a good relationship."
Those experiences helped finalize their decision to produce hemp in Florida, where the crop can be grown year-round. In May 2020, they started planting hemp after becoming one of the first farms in Florida to receive a hemp cultivation license from the Florida Department of Agriculture and Consumer Services. 
Inside their greenhouse, which was completed in spring 2021, numerous fans provide airflow to ensure water does not enter the flowering buds and cause them to harbor mold or disease. Wet walls produce chilled water drips to control temperature and keep the plants from drying out in the Florida humidity. 
The Treadwell's office and processing is located in a former citrus plant in Umatilla. They carefully monitor the plant throughout the entire growing process, which typically takes three months from seed to harvest. This ensures the plants pass inspection by an independent third-party lab and are free of molding or bug infestations, pesticides, heavy metals, and microbials. They stray from using toxic chemicals and pesticides to create an organic product. 
Once harvested, the Treadwells extract CBD, short for cannabidiol, from the flower of hemp plants. CBD, which is touted for its anti-inflammatory, anti-anxiety, and seizure-suppressant properties, contains little to no tetrahydrocannabinol, or THC, the mind-altering chemical in marijuana that creates a natural high.
Their most popular product is the tincture drops that come in three flavors and contain 1,200 milligrams of CBD oil. The Essential Blend features MCT oil from coconuts and sunflower lecithin, the Citrus Spice includes orange, turmeric, ginger, and cinnamon, and Evening Blend comes with valerian root, vanilla, chamomile, and lemon balm.  
"The drops are the best way to take CBD," Glen says. "When you swish it in your mouth some of it will absorb in the mouth membranes, and then you can swallow it and the rest goes through your digestive system. It's like getting a quick and slow release at the same time."
Glen and Jammie also create CBD salves, extracts, and bath bombs, all of which can be found at local health stores such as Jeff's Health and Nutrition in Leesburg, Bay Pharmacy in Eustis, and three locations in Mount Dora—Health Basket, The Healthy Buddha, and The Juice Box. They are one of a handful of hemp farmers in the state to label their products with the "Fresh from Florida" seal. 
"We think the products we're making are advanced in their simplicity," Jammie says. "If people purchase products grown in Florida, they can rest assured it was tested multiple times throughout the process. They don't have to buy CBD products from a gas station. Instead, they can buy quality products made here in Florida."
Jammie stands firmly behind her products because she has experienced the medicinal benefits of CBD oil. In 2012, she was diagnosed with Hashimoto's thyroiditis, an autoimmune disorder that produces chronic inflammation of the thyroid. Her symptoms improved four years later when she began taking CBD oil tincture drops. 
"I began sleeping better, I felt less inflammation in my joints, and I didn't have to take as much over-the-counter medication to control my pain," she says. "I don't have as many flares."
Hemp proponents say CBD acts on the body's endocannabinoid system, which regulates cell activity, pain, and inflammation and helps the body adapt to outside stressors. Within this system are two cannabinoid receptors: CB1, located in the brain and central nervous system; and CB2, found throughout the body on cells associated with the immune system. Plant-based cannabinoids from hemp activate the CB1 and CB2 receptors produced naturally in the body, giving the endocannabinoid system a boost and providing the medicinal benefits behind CBD.
Though manufacturers cannot claim the products will treat or cure any diseases, the Treadwells have heard plenty of success stories. 
One of them comes from Becky Greene, whose daughter, Autumn, began experiencing seizures four years ago. Before long, the former straight-A student's grades began dropping, and her memory and focus became impaired. One year ago, her neurologist gave Autumn a choice: he was either going to increase her anti-seizure medication or allow her to try CBD oil. 
Autumn opted for CBD tincture drops, which she purchased from Treadwell Farms. That proved to be a life-changing decision.
"The CBD oil took about a month to kick in, but we started noticing changes in her," says Becky, a resident of east Lake County. "Her grades went back up, her memory improved, and she is now fully functioning. CBD oil gave me my child back, and now I'm taking it to help manage stress."
In addition to helping people with medical problems, the Treadwells are equally excited about promoting the hemp industry in Florida. They paved the way for other farmers to be successful growers by creating the Florida Hemp Farmers Coalition and providing advocacy, education, and support. So far, they have helped 10 hemp farmers in Lake and Orange counties obtain their license, start a hemp farm, and troubleshoot problems. 
Each of those farmers has enjoyed more than one successful harvest. 
"We really care about the community, and it pains us to see agricultural lands turn into housing developments," Jammie says. "This is our small way of supporting expansion into a new industry people are excited about. It has been reinvigorating for us. It's not just about us being successful but everyone involved being successful."
Success is certainly attainable. The tsunami of CBD-infused products has hit the U.S. with such force that sales are projected to reach $29.5 billion in 2022, according to the BDS Analytics and Arcview Market Research. More than 1,200 independent health food stores—as well as pharmacies and convenience stores—are selling CBD products that come in sublingual drops, gel caps, vape oil, gummy candies, and other attractively packaged potions. 
The versatile plant is also used for cooking, body lotion, fabrics, textiles, rope, fuel, and building material. Glen and Jammie hope to build partnerships with local businesses and maximize hemp's potential.  
"We are excited to work with a community of farmers, a community of businesses, and a community of entrepreneurs who come up with an idea to use hemp in some form," Jammie says. 
Link to original article at Lake & Sumter Style