Hemp Infused Blueberry Pancakes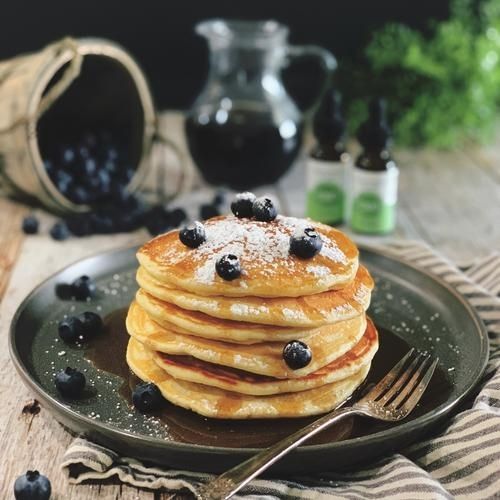 AUTHORED BY: CLARA KIRKLAND
Hemp Infused Blueberry Pancakes


They say breakfast is the most important meal of the day, and around the farm, we agree! This is Clara with another Treadwell Farms Recipe Remix, and the first of many to come in 2021.

This tasty recipe for fluffy, hemp-infused blueberry pancakes is a great way to start your day with a delicious treat for yourself while feeding your body's system to help keep things balanced.

Scroll down for the recipe… and tag Treadwell Farms on social media if you try it and love it!


Hemp Infused Blueberry Pancakes

20 Minutes – Makes about 10 pancakes
**1 tsp of Treadwell Farms 1200mg Essential Blend CBD Hemp Extract = 240mg CBD. Each pancake in this recipe contains about 24mg of CBD**


Ingredients:

1 ½ cups Flour
1 tbsp Sugar
1 tbsp Baking Powder
1 tsp Salt
1 ¼ cup Milk
1 Egg
1 tsp Treadwell Farms 1200mg Essential Blend CBD Hemp Extract Oil
3 tbsp melted butter
1 container of fresh blueberries (to bake in pancakes and use as topping)
Pancake syrup for topping
Powdered sugar for topping

Instructions:


In a medium sized bowl, whisk together all dry ingredients.
Whisk in milk, egg, and CBD oil until combined. Whisk in melted butter (batter will be slightly lumpy).
Allow batter to sit for about 10 minutes to thicken slightly. While the batter rests, heat your griddle or pan to 350 degrees F or medium-low.
Once heated, pour ¼ cup of batter for each pancake onto griddle/pan and place as many blueberries as you prefer onto the wet batter.
Allow to cook until bubbles appear/pop on the top and edges start to look dry, about 2-3 minutes.
Flip pancakes and cook for another 2-3 minutes until both sides are golden brown.
Serve hot, topped with fresh blueberries, syrup and powdered sugar.
Enjoy!