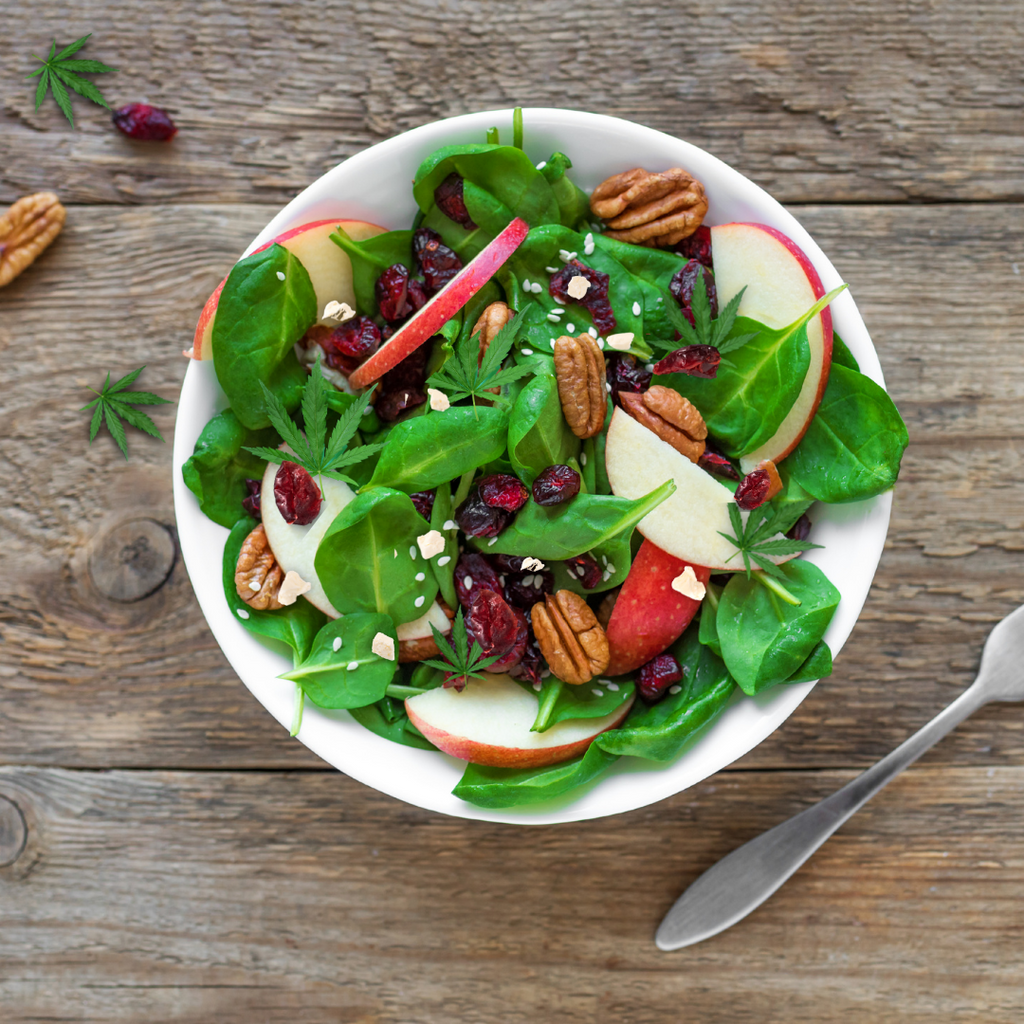 From stems to stalks, buds to leaves, hemp and hemp products have a multitude of uses. When added to recipes, hemp can bring out certain flavors, be used to create an infused oil (like hemp-infused vegetable oil), or be used as a fresh ingredient in a salad - just to name a few. Today, we are sharing a recipe that uses hemp in several different ways. Whether you are a hemp/CBD newbie, or have been using it for years, this recipe allows you to tailor the hemp ingredients you use to your comfort level. If you're not sure where to start with the hemp ingredients, just use CBD Hemp Extract along with vegetable oil in this recipe. 
RECIPE BY: CBD CHEF MARY
Ingredients:
Dressing
½ cup hemp Infused vegetable oil **(

or vegetable oil with CBD added - see below

)

¼ cup apple cider vinegar

¼ cup unsweetened apple cider

2 to 3 tablespoons honey (or CBD Honey if available)

1 tablespoon lemon juice

½ teaspoon salt

Freshly ground black pepper, to taste. 
Salad
3 medium Honeycrisp apples (about 1 pound), thinly sliced

Juice of ½ lemon

12 ounces salad greens including fresh HEMP leaves from Culinary Cannabis 

1 cup pecan halves, 

¾ cup dried cranberries 

4 ounces crumbled blue cheese
Directions:
To prepare Hemp Apple Cider Vinaigrette, measure hemp-infused oil**, apple cider vinegar, apple juice/cider, honey, lemon juice, salt, and pepper into a mason jar. Tightly screw-on lid and shake vigorously until everything is thoroughly combined. Alternatively, you may briskly whisk the ingredients together in a medium bowl, or blend them in a blender or mini food processor.  **If you don't have hemp-infused oil, use ½ cup vegetable oil - substituting 2 tbsp of the oil for 2 tbsp Treadwell Farms CBD Hemp Extract.

Place apple slices in a large plastic baggie and squeeze the fresh lemon juice (from the lemon half) over them. Close bag and shake to coat. 

In a large salad bowl, layer salad greens, apple slices, pecans, dried cranberries, and blue cheese. 

Just before serving, dress with desired amount of Apple Cider Vinaigrette and toss until salad ingredients are evenly coated.
Prep Time:
20 minutes
Serves:
4-6 people