CBD Rose Lemonade Cocktail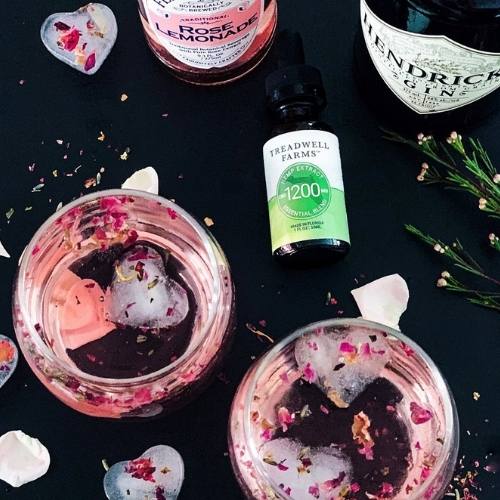 Congratulations everyone!!!
We made it through the first month of 2021! With February here and the promise of Spring on the horizon, I'm feelin' all of the love, positivity and creative vibes. How about you?
Today on the blog, we're sharing the prettiest pink drink you ever did see. This classy cocktail is PERFECT for your Galentine's night in with the girls. Inspired by a beverage we came across on Pinterest called "Fentimans Rose Lemonade", we decided to pair the botanically brewed drink with Hendricks handcrafted Gin. And as a finishing touch, we tossed in a few flower petal ice cubes for some extra cuteness (because what girl doesn't want flowers on Valentine's Day??) *wink*
Ready to try a sip? Keep scrolling for the recipe<3
LET'S BE REAL:
* We searched high and low to find this Rose Lemonade and it ended up that our local Target carries it (who would have thought?). Save yourself some heartache and call your local Target first to make sure they have it in stock.
* If you'd rather skip the Gin, the Rose Lemonade is tasty by itself. And the flower petal ice cubes will make your "virgin version" feel just as special. 
Link to Edible Dried Rose Petals
CBD Rose Lemonade Cocktail
**This recipe contains about 10mg (1/4) dropper of CBD oil per drink but** you can increase or decrease the amount to your preference.
Ingredients:
1 Small bag of edible, dried rose petals
Water
1 Shot (1.5oz) Hendrick's Gin
1 Bottle Fentiman's Rose Lemonade
¼ dropper of Treadwell Farm's 1200mg Essential Blend CBD Hemp Extract
Instructions:
Using a heart-shaped mold tray, fill the tray with water just as you would with a normal ice cube tray, making sure not to let the water overflow the molds.
Sprinkle pinches of edible dried rose petals into each water filled mold.
Place tray in freezer and wait 30 min (or until frozen solid).
Once your floral ice cubes are ready, leave them in the freezer while you begin mixing your cocktail.
Pour one shot (1.5oz) of Hendrick's Gin into your choice of cocktail glass. Fill the rest of the glass with Fentiman's Rose Lemonade, leaving enough room to add your ice cubes.
Add ¼ dropper of CBD oil and mix well.
Toss in some floral ice cubes and enjoy!