How CBD Can Help You Crush Your Fitness Goals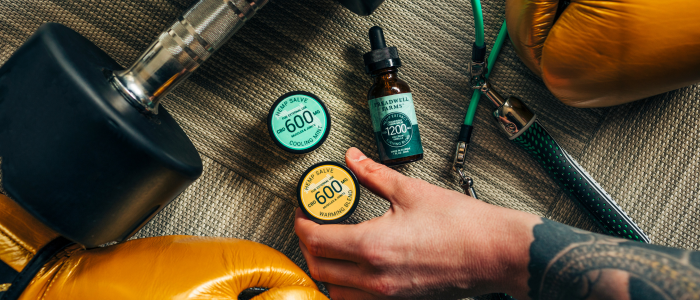 Are you looking for a natural way to enhance your fitness journey? Or maybe you're just getting ready for beach season…
Either way, CBD could be just the thing you need!
So how much exercise do you really need? A new study published in the Journal of Circulation found that at least 150-300 minutes of physical activity per week was good, but 300-600 minutes of physical activity per week was even better. I don't know about you, but I'm already fatigued just reading that! And don't even get me started on the sore muscles after a workout! 
Luckily, CBD can help!
Start Your Day With CBD
Starting your day with a CBD extract or gummy can help support your body's endocannabinoid system (ECS), which is responsible for keeping your body in balance. There are so many potential benefits to introducing CBD to your daily routines. By reducing inflammation in your body, CBD may help alleviate pain, tightness, and sore muscles - making it easier to get motivated and hit the gym.
CBD as a Pre- and Post- Workout
Topical CBD products may help provide fast-acting relief by targeting sore areas directly. Simply apply it to any tight or sore areas 15-30 minutes before your workout and get ready to feel the benefits!
After your workout try our Warming Blend Salve or Cooling Mint Salve for help with stiff joints or muscles, as well as reducing inflammation and swelling. Rubbing a dime-sized amount of salve onto problem areas may relieve muscle and joint soreness, aches, and pains - helping you recover faster and feel better after a challenging workout.
End Your Day With CBD
Need to wind down after your workout? An epsom salt bath with CBD can be the perfect way to support your body's muscle recovery. Just add a cup or two of epsom salts and 5-10 drops of CBD extract to a warm bath and soak as long as you'd like. You can also make your own Citrus CBD Bath Salts for a relaxing and rejuvenating post-workout soak.
To further support muscle recovery, try our RELIEF Hydro Lotion. This hydrating lotion not only soothes your skin but may also help with inflammation, making it the perfect product to apply over a large area or your whole body.
If you're new to working out or CBD, remember to start slow and consult with your doctor if you have any concerns. Everyone's body is different, so it's important to take the time to find the right dose for you.
Whether you're a fitness newbie or a seasoned pro, consider adding CBD to your routine to help you achieve your fitness goals.
Need to wind down after your workout? An epsom salt bath with CBD can be the perfect way to support your body's muscle recovery. Just add a cup or two of epsom salts and 5-10 drops of CBD extract to a warm bath and soak as long as