Hemp History Maker Oneal Latimore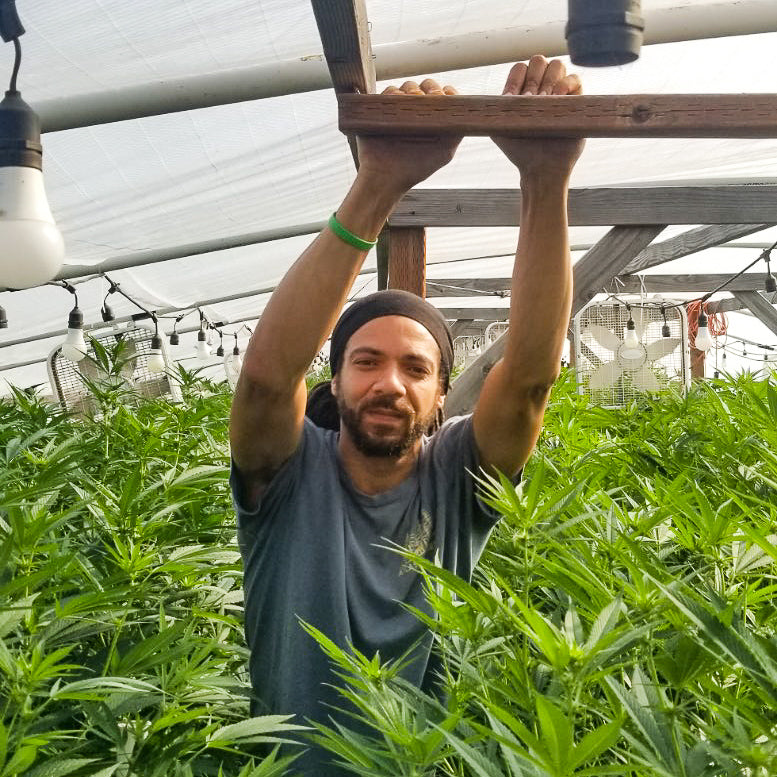 AUTHOR: JAMMIE TREADWELL
Hemp History Maker Oneal Latimore
Hemp History is happening now! This is a global story with each person doing their part in flipping the script. In honor of Black History Month, meet our good friend Oneal Latimore.
My Dad and I first met Oneal in Oregon and he really taught us a lot about this incredible plant. Oneal then came down to Florida and provided valuable insight to help multiple farmers during harvesting, drying and curing. If you have ever been through a harvest, you know that this is the time where fair-weather friends are busy but true friends show up!
I recently spoke with him and I'm excited to tell you a little more about him. I think you will agree that Oneal is making Hemp History!
How would you describe yourself?
First and foremost, I am a farmer. These days, I am also a business consultant and a business owner but I am happiest when I have my hands in the dirt.  I am also an Army Veteran who served in the "Old Guard" – the 1st of the 3rd Infantry in the US Army.  I started spending more time in Pennsylvania just as the Pennsylvania Hemp Program was starting (2017-2018) and I have been able to contribute my prior cannabis/hemp growing experience to educate others about the potential of hemp and help the program develop.


How did you get involved in hemp?
While I was living on the West Coast, I got involved with medical cannabis.  It always struck me that there was a lot of waste in medical cannabis and later in hemp CBD farming. I started experimenting with how I could use the waste – particularly the stalks - and became excited about the possibilities and history of industrial hemp usage. I still learn something cool about hemp every day.
What projects are you working on that excite you?
I am working with Thomas Jefferson University's School of Design & Engineering on composite material science and feasibility studies for hemp-sourced products.  My first consulting client in Pennsylvania has opened the first and only industrial hemp processing facility in our state, and I have helped friends with hemp construction projects in my area.  I believe that when we can introduce the consumer market to the uses of hemp through these university partnerships we will see it take hold.  
You have created and are marketing some really cool hemp planters and other goods at Eastern Hemp Company – can you tell me about that?
 Yes, we have been able to create some really beautiful planters and other usable products using hemp materials, eco-friendly binders, and eco-friendly paints for the cool colors.  We hope they start a conversation about hemp and there has been a lot of interest in them.
What is your most memorable experience working in Pennsylvania Hemp?
In the second year of Pennsylvania's hemp program, I had the opportunity to 
help our Amish neighbors harvest over 200 acres of high-quality hemp flower using traditional methods. They got a bit overwhelmed with the scope of their harvest and asked for help from outside communities and I was happy to do it. They grew some beautiful hemp flower and had very efficient processes that everyone, including small children, participated in.  It was a very memorable experience.
Do you feel like you are making Hemp History?
I am proud to work with organizations like DACO (Diasporic Alliance of Cannabis Opportunities), who are helping develop the Black cannabis and hemp space in Philadelphia. I was with the first group who brought a live hemp plant to the capital in Harrisburg. We also started Black Hemp Week which is the first week of June each year at the capital and in our state to coincide with US Hemp History Week.
I would like to be remembered as somebody who helped hemp to be realized in as many ways as possible.  As a child, I always remember the BASF tagline – we don't make things, we make them better.  I always like to think I don't make hemp but I can make hemp work. With my work at Eastern Hemp Company in composite/material science, I hope I can be a part of creating hemp food, clothing, shelter, and fuel.  I really believe if consumers are educated and given options that are economical, functional, and sustainable they will shift their mentality towards hemp-based products. If we can switch to hemp just think of the industry that can develop in the US – farming, manufacturing, product development, and distribution of hemp products all right here! 
For more information about Oneal and Eastern Hemp Company visit his website www.easternhemp.org or find him on Instagram @easternhempcompany.